First Year History of GRoundBreakers Church
written by planting pastor, Patricia Miller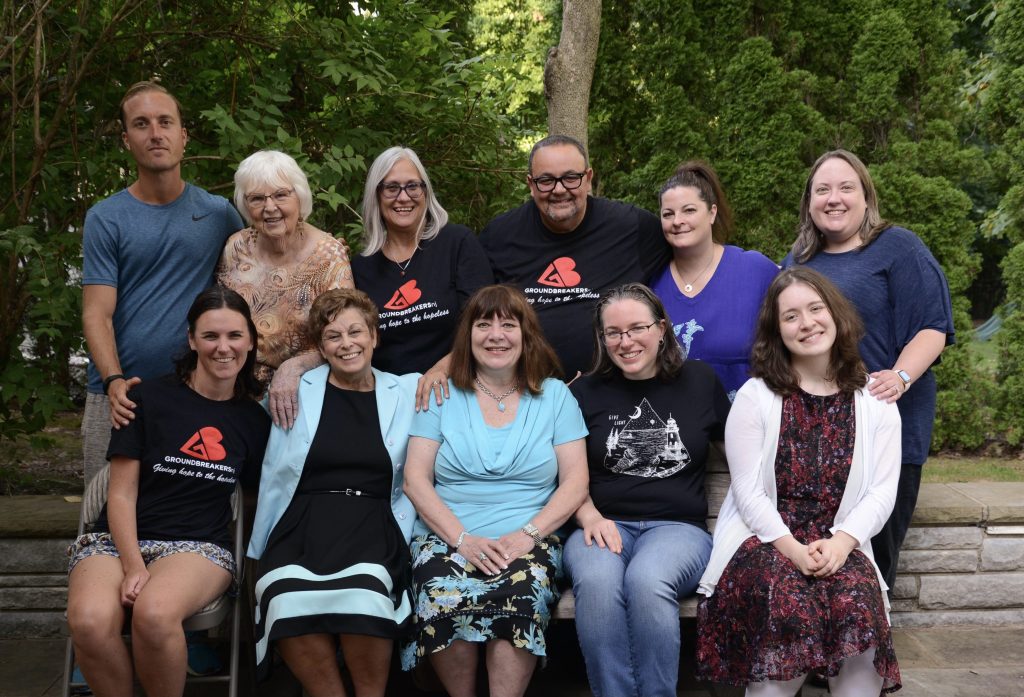 God moves us skillfully from one season to the next, from one assignment to the next, showing us the next step as our hearts are open to him. Knowing that our settling into a comfortable routine can lead to stagnation, He purposefully stirs our nest with the goal of moving us to a new place in him. A place where we go beyond what we know to embrace the unfamiliar. A place to grow and advance to a new level in our walk with Him.
While I was still happily leading the Prayer Team at Liquid Mountainside I began to sense that the season I was enjoying so much was about to change. Sometime in the fall of 2019 I felt my nest getting stirred. That awareness grew from a gentle nudge to a forceful push over the course of the next six months as the call to establish and shepherd a Spirit-filled, Spirit-led church became irrepressible. For a time I resisted, knowing full well the cost of pastoring, of shepherding sheep. But then the day came when I heard Him speak clearly and firmly that the time is NOW.
That NOW was months into the lockdown that resulted from the mismanagement of the virus known as covid 19. Believers I knew and loved were hurting from the social and spiritual isolation of churches being locked. Many suggested that online church was a viable substitute for in-person gathering, but I knew that was not how God felt about it. And I knew that Hebrews 10:25 was a command and not a nice suggestion. It was a command to be obeyed in spite of the government edicts to the contrary. The mandate of scripture could not be more clear:  "And let us not neglect our meeting together, as some people do, but encourage one another, especially now that the day of his return is drawing near." 
And so, Groundbreakers Church was born in July, 2020. When I made the announcement several indicated immediately that they were "in" and have become the faithful foundational backbone of the church supporting with their attendance, prayers, service and finances. Our first service, where I shared the vision, mission and purpose for the church, was held in the family room at 10 Tree Top Drive, Springfield on Sunday, July 19 at 6 pm with about 16 people in attendance. Our motto was introduced:  Groundbreakers Church:  Where His Presence is Everything! 
Before the end of August I left the fledgling church to minister in Tanzania for 2 weeks. while others faithfully shared the Word in my absence. In September Edna Klein led a team, including some from NJ, to minister in Kenya. Missions is the very heart of Groundbreakers Church. We are breaking up the hardened ground of religion and sowing in the fertile soil of the Spirit in every nation where God opens the door. It is part of my vision for the church to see everyone go to the nations at least one time. 
From our inception we connected with Lee Smith and her Light of the Lord street outreach. She came to share the Word in August and our first opportunities for outreach were presented. Several joined with Lee in Plainfield for two outreaches distributing food, clothing and ministering healing. As the vision for outreach was embraced we collected dozens of warm winter coats to share on the streets of Elizabeth and blessed dozens of people with coats, clothing, Bibles and prayer. 
While our church family was growing closer together and ministering to each other week by week, the mundane tasks of organizing and registering the church with the State of New Jersey were undertaken. We appointed officers:  Patricia Miller serving as President; Diego Lezcano, serving as VP; and Maggie Castro, serving as Secretary/Treasurer. For spiritual and practical covering we invited three seasoned ministers and church planters to serve as our advisors. Evangelist Dale Everett, Pastor Leonard Rola and Pastor Richard Myers agreed to serve. We established our monthly schedule to celebrate communion and be updated on action items related to living out our Christian worldview. We enjoyed our monthly fellowship meals and celebrated our first Christmas together. 
 February and March brought us three great guest speakers, Ron Martin who shared powerfully both from his testimony and the Word, Lee Smith, brought us a timely word and Lenny Rola, Charis Bible School Director and advisor to Groundbreakers Church, shared a great word on the power of the grace of God. And most recently Melanie Waldman shared her amazing testimony of the grace of God in her life. 
Healing and the baptism of the Holy Spirit are normal experiences in the Spirit-filled church. And this year we saw the first healings and the first baptisms of the Holy Spirit. Since we believe that each person has unique gifts to share with the body, each week during this first year a different member of the body shared the Word. Over the course of the year 13 different people have shared. We believe that the model for the church was established early on and that, in spite of the changes in culture, that model is still both relevant and effective in developing disciples and reaching the lost. 
Scripture is clear: Eph 14:26  When you meet together, one will sing, another will teach, another will tell some special revelation God has given, one will speak in tongues, and another will interpret what is said. But everything that is done must strengthen all of you. 
This is the model we are endeavoring to follow at Groundbreakers Church.
In summary, this first year has been one of laying a strong foundation. All of the pieces are in place for an effective and enduring future as we grow together into that building which Paul speaks about in 1 Cor 3:9  We are coworkers with God and you are God's cultivated garden, the house he is building.